Dimensions
9.6m long
3.0m wide
4.3m high
Sleeps
1-4
2x Queen size beds
Frame method
High quality SIP panel construction using our unique Uber method.
Price
Turn key 180k(Australian)
lock up 90k (Australian) with free access to Uber Tiny School.
Get into contact for pricing options.
Do you have a question you need answered?
Experience
We have been building tiny homes in Australia since 2016 and refined our build system to ensure utmost quality.
Quality materials
We use high quality materials and build methods to make our houses stand above the competition.
Customisation
We can work with you to customise your house to suit your specific needs. All designing is done in house.
Finance
We have teamed up with a leading finance provider in Australia that welcomes tiny houses finance
Qualified tradesman
Our tradesman are qualified and passionate about building the best tiny house for you.
Building science
We have delved into the building science and how your home reacts with the environment to ensure its a mould free healthy home.
Aesthetics
We put in effort to make your home stylish and beautiful so that living inside it makes you feel the same.
Quality over Quantity
This is our motto, we are not your average cookie box cutter builders, We build high end tiny homes to last a lifetime.
We now offer our builds to lock up stage!
You can then DIY the inside your self with free access to Uber tiny school to show you exactly how.
This model has two up stairs lofts for sleeping with a full height walkway beside them.
The main loft bedroom has room for a king size bed and cupboard storage to put your clothes.
The second loft is smaller in size but can still fit a queen size bed or alternately be used as a movie room.
Navigating the stairs is easy as the rises are not to steep and a hand rail is provided with led strips to light it up.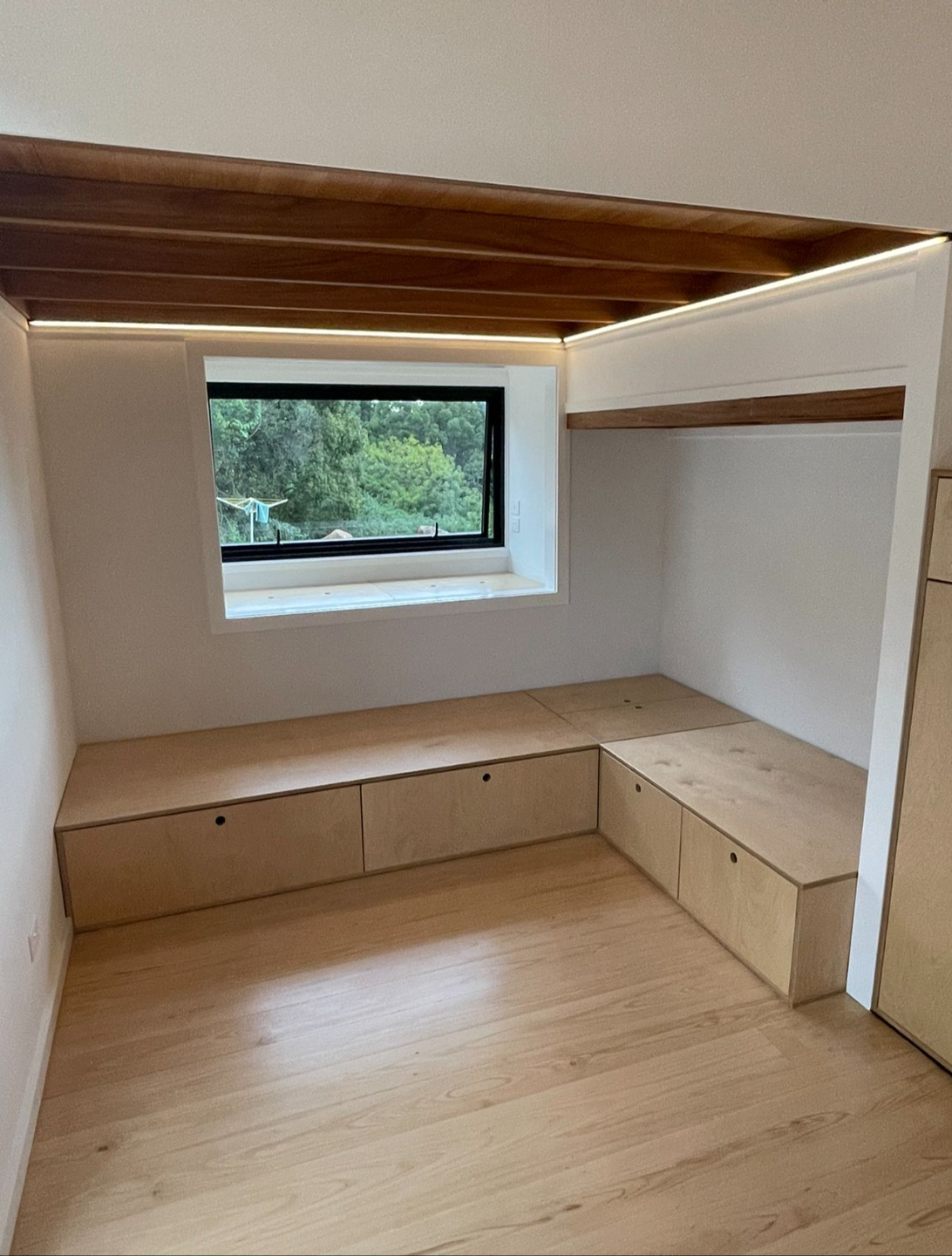 The lounge room has a L shaped couch with storage drawers underneath with Custom upholstery on top. Above is the window box seat, a nice place to relax and read a book.
Kitchen includes oven, cooktop sink and optional dishwasher drawer. The large window can be with gas struts and reractable flyscree to open up fully to a outside deck.
The bathroom has room for a bath or a shower with room for a washing machine beside it. Vanity and toilet on other side of wall under lowered walkway.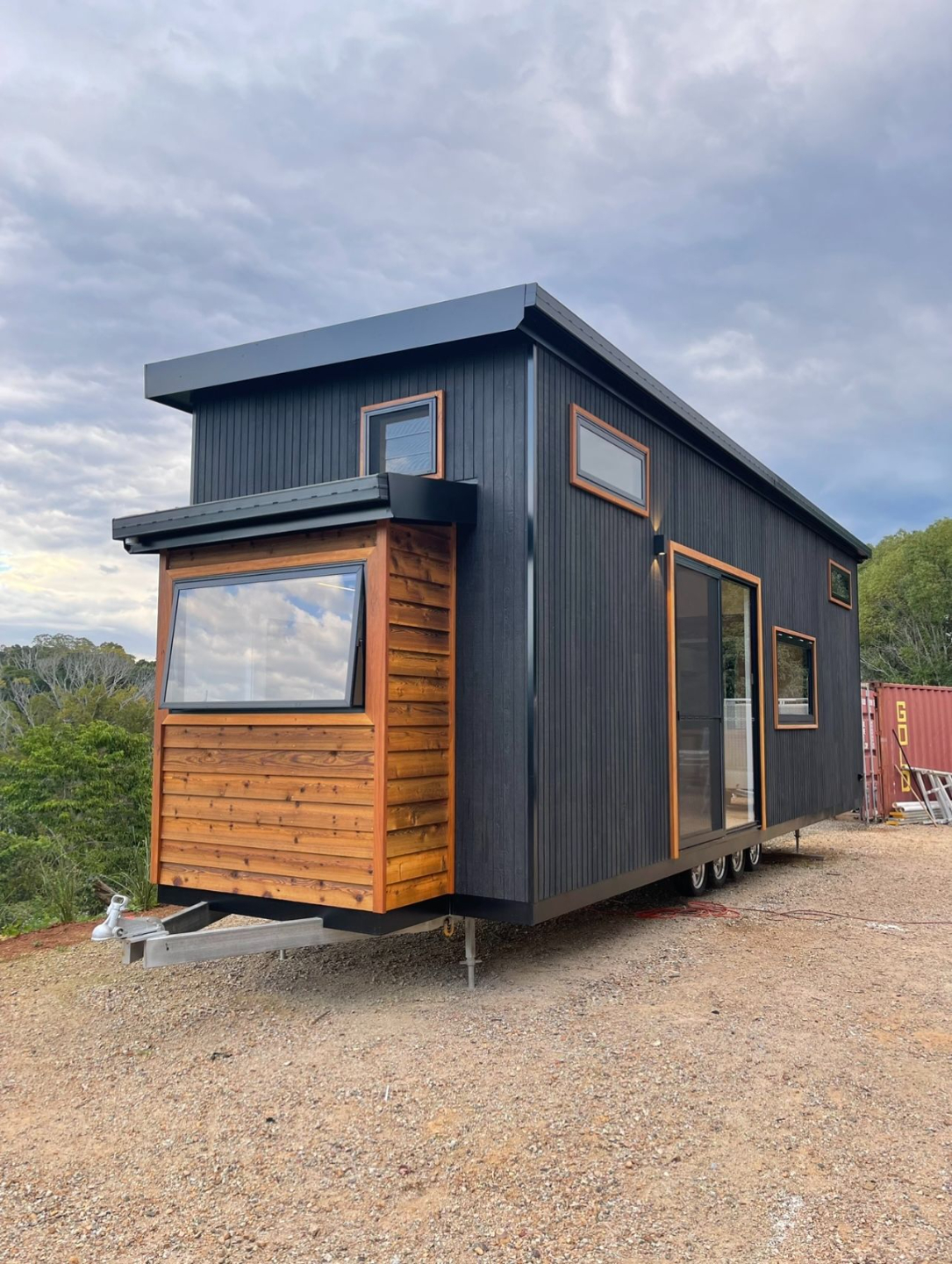 Exterior can be a combination of architectural grade metal siding and weathertex or cedar and you can customise the layout of the two.
Watched detailed walkthrough
Our Trailers are superior.
Our trailers are made to the highest standards after 6 years of trial and error and considering its the foundation of your home it pays to make sure its been done right.
We have a unique system to allow insulation of the subfloor between the members and drainage of condensation that occurs from the metal members sweating. We also use xps foam on top of the metal members to prevent thermal bridging into your home.
Featuring a 5mm thick chassis wall to prevent bowing. We also have as an optional extra custom made jack stands that can handle the weight of a tiny home and make height adjustments easily using a bottle jack as standard legs can only hold the weight but struggle to lift it.
Whats the exact process of ordering a tiny house?
How long does it take to build?
Do you need council approval to live in your tiny?
Can I Insure my tiny house?
Our lighting is next level!
As a standard inclusion we use premium 24v dimmable strip lighting on all our houses. This is so that you can have complete control of the lighting and mood of your home without irratating down lights shining in your face.
We have build slots available now so contact us for a quote!